ICTV Virus Taxonomy Profile: Portogloboviridae
ICTV Virus Taxonomy Profile: Portogloboviridae.
Portogloboviridae is a family of viruses with circular, double-stranded DNA genomes of about 20 kbp. Their icosahedral virions have a diameter of 87 nm, and consist of an outer protein shell, an inner lipid layer and a nucleoprotein core wound up into a spherical coil. Portogloboviruses infect hyperthermophilic archaea of the genus Saccharolobus , order Sulfolobales and are presumably nonlytic. Portogloboviruses encode mini-CRISPR arrays which they use to compete against other co-infecting viruses. This is a summary of the International Committee on Taxonomy of Viruses (ICTV) Report on the family Portogloboviridae , which is available at ictv.global/report/portogloboviridae.
Fichier principal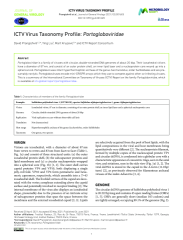 Prangishvili2021JGV.pdf (359.51 Ko)
Télécharger le fichier
Origin : Files produced by the author(s)