[A review of cellular senescence: friend or foe of tumorigenesis?].
Une re-vue de la sénescence cellulaire
Cellular senescence, like apoptosis, is now widely accepted as a potent tumor suppressor mechanism operating in normal mitotic mammalian cells. Originally, it was identified as a process that limits the replicative lifespan of primary human cells in culture because of telomere attrition and was therefore termed "replicative" senescence (RS). However, previous findings have demonstrated that a phenotype indistinguishable from replicative senescence, collectively called "stress-induced premature" senescence (SIPS), can be induced without extensive cell division in normal as well as cancer cells by a variety of stresses and signaling imbalances. Recent developments have also indicated that, despite their tumor-suppressive capacity, senescent cells themselves could produce neoplastic cells under certain circumstances and promote the growth of preneoplastic cells, raising the possibility that senescence might function as a biological "Trojan" horse. Here, we take a snapshot of the progress in understanding the causes and consequences of cellular senescence in vitro and in vivo.
On considère à l'heure actuelle que la sénescence cellulaire, tout comme l'apoptose, représente un véritable mécanisme de suppression des tumeurs chez les mammifères. La sénescence cellulaire a été identifiée à l'origine comme phénomène consécutif au raccourcissement télomérique et limitant la durée de vie des cellules humaines en culture primaire. Depuis, de nouvelles données ont établi qu'à côté de cette sénescence réplicative (RS) existait également la sénescence prématurée induite par le stress (SIPS) dont le phénotype est impossible à distinguer de celui de la RS. La SIPS peut être induite aussi bien dans des cellules normales que dans des cellules tumorales en l'absence de nombreux cycles de division cellulaire, et ce en réponse à divers stress et/ou signaux inappropriés. En dépit de l'activité oncosuppressive potentielle du processus de sénescence, des résultats récents indiquent que les cellules sénescentes pourraient, dans certaines circonstances, favoriser l'émergence de cellules tumorales ou promouvoir la croissance de cellules prénéoplasiques. La sénescence agirait alors en véritable « cheval de Troie » biologique. Nous tenterons dans cet article de faire le point des connaissances actuelles sur les causes et les conséquences de la sénescence cellulaire in vitro et in vivo.
Fichier principal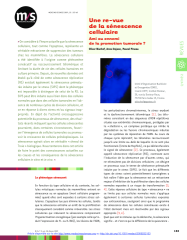 medsci2009252p153.pdf (361.04 Ko)
Télécharger le fichier
Origin : Publisher files allowed on an open archive