Database establishment for the secondary fungal DNA barcode translational elongation factor 1α ( TEF1α )
With new or emerging fungal infections, human and animal fungal pathogens are a growing threat worldwide. Current diagnostic tools are slow, non-specific at the species and subspecies levels, and require specific morphological expertise to accurately identify pathogens from pure cultures. DNA barcodes are easily amplified, universal, short species-specific DNA sequences, which enable rapid identification by comparison with a well-curated reference sequence collection. The primary fungal DNA barcode, ITS region, was introduced in 2012 and is now routinely used in diagnostic laboratories. However, the ITS region only accurately identifies around 75% of all medically relevant fungal species, which has prompted the development of a secondary barcode to increase the resolution power and suitability of DNA barcoding for fungal disease diagnostics. The translational elongation factor 1␣ (TEF1␣) was selected in 2015 as a secondary fungal DNA barcode, but it has not been implemented into practice, due to the absence of a reference database. Here, we have established a quality-controlled reference database for the secondary barcode that together with the ISHAM-ITS database, forms the ISHAM barcode database, available online at http://its.mycologylab.org/. We encourage the mycology community for active contributions.
En raison d'infections fongiques nouvelles ou émergentes, les champignons pathogènes humains et animaux constituent une menace croissante mondialement. Les outils diagnostiques actuels sont lents, non-discriminants au niveau spécifique ou sous-spécifique, et ils nécessitent une expertise morphologique pour identifier avec justesse les agents pathogènes en cultures pures. Les codes à barres de l'ADN sont des séquences d'ADN courtes, spécifiques, faciles à amplifier et universelles, ce qui rend possible une identification rapide par simple comparaison avec une collection de séquences de référence bien constituée. Le principal code à barres de l'ADN chez les champignons est la région ITS, laquelle a été employée initialement en 2012 et est maintenant employée de manière routinière dans les laboratoires diagnostiques. Cependant, la région ITS ne permet d'identifier avec justesse qu'environ 75 % de tous les spécimens fongiques d'intérêt médical, ce qui a créé la nécessité de développer un code à barres secondaire de manière à augmenter la résolution et la pertinence du codage à barres de l'ADN pour le diagnostic des maladies fongiques. Le facteur d'élongation de la traduction 1α (TEF1α) a été choisi en 2015 comme code à barres secondaire chez les champignons, mais n'a pas été tellement employé en raison de l'absence d'une base de données de séquences de référence. Dans ce travail, les auteurs ont établi une telle base de référence dont la qualité a été vérifiée pour le code à barres secondaire qui, conjointement à la base de données ISHAM-ITS, forme la base de données « ISHAM barcode database », disponible en ligne à http://its.mycologylab.org/. Les auteurs encouragent la communauté des mycologues à y contribuer activement. L'utilisation d'un système de codage à barres double facilitera l'identification juste de tous les champignons pathogènes d'intérêt clinique.
Fichier principal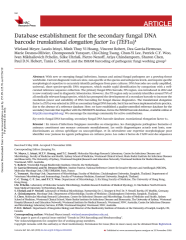 Meyer Database establishment.pdf (1.23 Mo)
Télécharger le fichier
Origin : Publisher files allowed on an open archive