HIV-1 Nef promotes the localization of Gag to the cell membrane and facilitates viral cell-to-cell transfer
Background
Newly synthesized HIV-1 particles assemble at the plasma membrane of infected cells, before being released as free virions or being transferred through direct cell-to-cell contacts to neighboring cells. Localization of HIV-1 Gag precursor at the cell membrane is necessary and sufficient to trigger viral assembly, whereas the GagPol precursor is additionally required to generate a fully matured virion. HIV-1 Nef is an accessory protein that optimizes viral replication through partly defined mechanisms. Whether Nef modulates Gag and/or GagPol localization and assembly at the membrane and facilitates viral cell-to-cell transfer has not been extensively characterized so far.
Results
We report that Nef increases the total amount of Gag proteins present in infected cells, and promotes Gag localization at the cell membrane. Moreover, the processing of p55 into p24 is improved in the presence of Nef. We also examined the effect of Nef during HIV-1 cell-to-cell transfer. We show that without Nef, viral transfer through direct contacts between infected cells and target cells is impaired. With a nef-deleted virus, the number of HIV-1 positive target cells after a short 2h co-culture is reduced, and viral material transferred to uninfected cells is less matured. At later time points, this defect is associated with a reduction in the productive infection of new target cells.
Conclusions
Our results highlight a previously unappreciated role of Nef during the viral replication cycle. Nef promotes HIV-1 Gag membrane localization and processing, and facilitates viral cell-to-cell transfer.
Fichier principal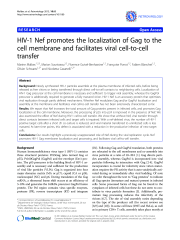 1742-4690-10-80.pdf (994.41 Ko)
Télécharger le fichier
1742-4690-10-80-S1.PNG (752.03 Ko)
Télécharger le fichier
1742-4690-10-80-S2.PNG (802.03 Ko)
Télécharger le fichier
1742-4690-10-80-S3.PNG (426.16 Ko)
Télécharger le fichier
1742-4690-10-80-S4.PNG (449.39 Ko)
Télécharger le fichier
1742-4690-10-80.xml (113.77 Ko)
Télécharger le fichier
Origin : Publisher files allowed on an open archive