Le phénomène Prion, différents aspects d'un nouveau concept en biologie
Prion diseases are neurodegenerative disorders causing spongiform encephalopthies in mammals. They have the peculiarity of being transmissible and have led to epidemics such as Kuru in human, scrapie in sheep, chronic wasting disease in cervids and mad cow in bovine. This latter has been transmitted to human where it has induced a variant form of the human Creutzfeldt-Jakob disease. Amyloïd deposits of a misfolded protein (PrPSc) due to the conformational change of the host encoded cellular prion protein (PrPC) are features of these diseases. The prion hypothesis has proposed PrPSc to be the infectious agent. Recent arguments in favor of this hypothesis will be reviewed. The puzzling prion strain phenomenon leading to different pathologies and the nature of the infectious particle will also be questioned. The Prion concept, in addition to apply to diseases, has allowed a better understanding of some epigenetics transmissions in fungi. Principle of this concept suggests that different protein conformations may carry and propagate various information opening the way to new investigations on amyloïdosis and their potential to be transmitted. Several examples of Prion-like phenomena not systematically associated with diseases but related to functional amyloïds, sustain a conceptual novelty in biology that will be discussed.
Les maladies à prions sont des maladies neurodégénératives responsables d'encéphalopathies spongiformes chez les mammifères, ayant la particularité d'être transmissibles. Elles ont ainsi provoqué des épidémies (Kuru chez l'homme, tremblante du mouton, dépérissement chronique des cervidés, vache folle) et ont conduit à l'émergence d'un variant de la maladie de Creutzfeldt-Jakob après transmission inter-espèce de l'agent bovin à l'homme. Elles sont caractérisées par des dépôts amyloïdes constitués d'une protéine de structure anormale, la PrPSc qui résulte de la conversion de la protéine prion cellulaire (PrPC) de l'hôte et qui, selon l'hypothèse Prion, constituerait l'agent infectieux. Cette revue présente les arguments récents appuyant cette hypothèse. L'intriguant phénomène de souches associées à des pathologies différentes et la caractérisation de la particule infectieuse seront également abordés. Par ailleurs, le concept prion qui dépasse maintenant le cadre de ces maladies, a permis de réévaluer certains événements épigénétiques décrits chez les champignons. Ce concept, en suggérant un principe tel que diverses structures d'une même protéine puissent porter des informations différentes, a permis d'élargir le champ des investigations sur les amyloïdoses et leur transmissibilité potentielle. L'existence de phénomènes de type Prion impliqués dans des fonctions non systématiquement associées à des pathologies, apporte une nouveauté conceptuelle en biologie.
Fichier principal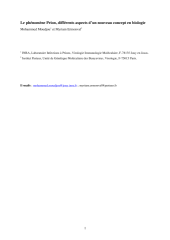 Moudjou_Ermonval_virologie _2010.pdf (690.42 Ko)
Télécharger le fichier
Origin : Files produced by the author(s)