SURVEILLANCE DES INFECTIONS HUMAINES PAR HANTAVIRUS EN FRANCE MÉTROPOLITAINE, 2012-2016
Surveillance of human hantavirus infection has been carried out for about 30 years in mainland France. From 2012-2016, a network of 15 clinical laboratories, the National Reference Center (NRC) for Hantavirus and the French Public Health Agency (Santé publique France) were involved in the surveillance. Data were obtainedfrom the analysis of the information sheet records of the hantavirus cases diagnosed by the laboratory network and confirmed by the NRC.The global situation was similar as the ones observed in the previous periods: an average of about one hundred cases, mostly hospitalized, was reported annually (incidence of 0.15 case per 100,000 inhabitants) with high annual variations. Active people were more concerned (median age 40 years), and were mostly males (75% of the cases). Cases were detected all year round with peaks of detection at the end of spring and at fall. Most of the cases were due to Puumala virus, but interestingly Seoul and Tula viruses were also detected, underlying other high-risk behavior. The geographic distribution of the cases in the North-Eastern quarter of France had a limited peripheral extension. However, this incidence and this geographic distribution are probably under-estimated because of the use of too specific serological diagnostic tests, and the low request of laboratory tests outside the hantavirus endemic area or for outpatients.
Les infections par les hantavirus chez l'homme font l'objet d'une surveillance en France, en particulier en métropole, depuis une trentaine d'années. Cette surveillance associait sur la période 2012-2016 un réseau d'une quinzaine de laboratoires de biologie médicale, le Centre national de référence (CNR) des Hantavirus et Santé publique France. Les données de surveillance ont été obtenues par l'analyse des fiches de renseignements accompagnant les échantillons des cas diagnostiqués par les laboratoires du réseau et confirmés par le CNR. La situation observée était proche de celles rapportées pour les périodes précédentes : une centaine de cas, la plupart hospitalisés, était dénombrée en moyenne annuellement (incidence de 0,15 cas pour 100 000 habitants) avec de fortes variations annuelles. La population active était toujours la plus touchée (médiane d'âge de 40 ans) et les hommes étaient les plus concernés (75% des cas). Les cas étaient détectés toute l'année, avec des pics de détection à la fin du printemps ou à l'automne. La majorité des cas étaient dus au virus Puumala, mais le fait marquant sur la période était la détection de cas d'infection par les virus Seoul et Tula et la nature des expositions à ces virus. La distribution géographique des cas, concentrée sur le quart nord-est de la France, a connu une extension très limitée dans sa périphérie. Cependant, cette incidence et cette distribution géographique pourraient être sous-estimées du fait de l'utilisation de tests de diagnostic sérologique trop spécifiques et de la faible demande de diagnostic pour des patients non hospitalisés ou en dehors de la zone d'endémie connue.
Fichier principal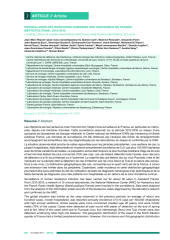 Reynes JM et al. Surv Hanta France métrop 2012-16. BEH 2017.pdf (1.56 Mo)
Télécharger le fichier
Origin : Publisher files allowed on an open archive