Hepatitis B testing and treatment in HIV patients in The Gambia-Compliance with international guidelines and clinical outcomes.
BACKGROUND: Compliance with WHO guidelines on HBV screening and treatment in HIV-coinfected patients is often challenging in resource limited countries and has been poorly assessed in sub-Saharan Africa.
METHODS: Between 2015 and 2016, we assessed physician's compliance with WHO guidelines on HIV-HBV coinfection in the largest HIV clinic in The Gambia, and the hepatic outcomes in HIV-HBV coinfected patients as compared to randomly selected HIV-monoinfected controls.
RESULTS: 870 HIV-infected patients regularly seen in this clinic agreed to participate in our study. Only 187 (21.5%, 95% CI 18.8-24.3) had previously been screened for HBsAg, 23 (12.3%, 95% CI 8.0-17.9) were positive of whom none had liver assessment and only 6 (26.1%) had received Tenofovir. Our HBV testing intervention was accepted by all participants and found 94/870 (10.8%, 95% CI 8.8-13.1) positive, 78 of whom underwent full liver assessment along with 40 HBsAg-negative controls. At the time of liver assessment, 61/78 (78.2%) HIV-HBV coinfected patients received ART with 7 (11.5%) on Tenofovir and 54 (88.5%) on Lamivudine alone. HIV-HBV coinfected patients had higher APRI score compared to controls (0.58 vs 0.42, p = 0.002). HBV DNA was detectable in 52/53 (98.1%) coinfected patients with 14/53 (26.4%) having HBV DNA >20,000 IU/L. 10/12 (83.3%) had at least one detectable 3TC-associated HBV resistance, which tended to be associated with increase in liver fibrosis after adjusting for age and sex (p = 0.05).
CONCLUSIONS: Compliance with HBV testing and treatment guidelines is poor in this Gambian HIV programme putting coinfected patients at risk of liver complications. However, the excellent uptake of HBV screening and linkage to care in our study suggests feasible improvements.
Fichier principal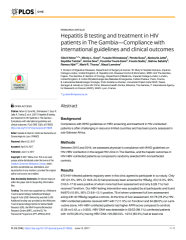 journal.pone.0179025.pdf (1.16 Mo)
Télécharger le fichier
Origin : Publication funded by an institution